Here are my thoughts of the show from last night.
Beyonce- I don't like her hair, reminds me of a wet dog. The whole act in the beginning  remind me of Flashdance and a strip club act. If people don't give Beyonce grief for this performance like they gave Miley for hers than they hypocrites. I kept thinking throughout this whole thing is when is it going to end. Please end. This is worse than Mileys songs and I am not a Miley fan.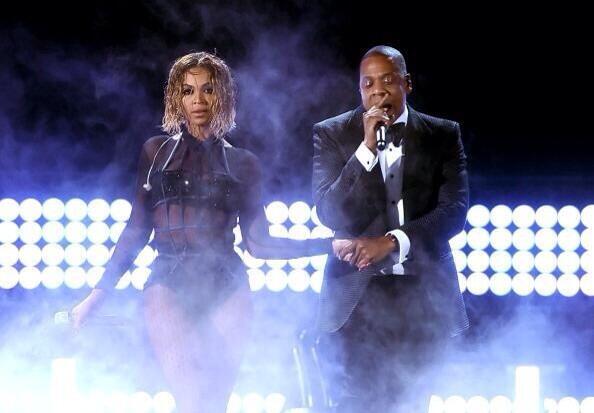 I always love seeing Taylor dance in the audience. Best part of the whole first performance.
LL Cool J- I like his suit and his intro speech needs work. I just wish he would stop talking.  Another Taylor Swift joke, starting to get old and I am not even a Swifty or whatever the superfans call themselves. I do think its funny that she mainly writes about that at the same time though I say she go for it, I just hope she writes more than that in the future.
Glad Mackelmore and Ryan Lewis got Best New Artist! So glad.
Lorde singing Royals. Please stop. Your performance makes me sad because of how bad it is. I can barely hear you and when I do I just want to cry from how bad it is. Also thanks for the angel statue in the background, all whovians, me included, began freaking out during the performance. Thanks.
Hunter Hayes- nope, just nope.
Best Pop Duo/Group Performace- Daft Punk won. Oh well I would rather it was Pink and Nate Ruess. At least it wasn't Robin Thicke.
They had a choice between 2 of The Beatles or all of the Jonas Brothers- BURN!!!!
Katy Perry- I can't fully understand you because of the dome surrnonding you. No impressed. Cool performace, interesting dancing, cool themes, could do without rap, but I'm not into a lot of rap. Her singing is not that great live and the bouncing there at one point just looked silly.

Chicago and Robin Thicke- This really upset my boyfriend. A group as talented as Chicago and Robin Thicke is singing with them. It's like Queen and Justin Bieber together.
Keith Urban- I'm sure it was good, but I was just not interested in listening to it.
I love you ABBEY!
John Legend- Again, I'm bored. Seriously I bet it is beautiful, but when your voice fades in and out, and I wish I had subtitles- that is a problem.
Best Rock Song- I could live with it, Paul McCartney winning works for me.
Honestly all the people nominated for Best Rock Song should have performed tonight because the other individuals haven't impressed me.
Taylor Swift- the best so far tonight and she was pretty good. And than she whips her hair back and forth, she whips her hair back and forth.

I'm so over Bruno Mars.
Yah P!nk! Please don't let me down.
She may not be singing at this point, but honestly her performance is different and I like it. The performace was well done, had heart and I can understand her. What is with the bad guy mustache on Nate Ruess? I love her outfit change, very smart.
Finally something good and interesting. First performance I have genuinely enjoyed throughout the whole show. Thank you P!nk
Best Pop Solo Performance– Lorde. Oh well. I preferred Roar myself.
Ozzy I still can't understand what you are saying.
Ringo- good performance. Thank you the Grammys needed more performances that were good.
Jamie Foxx- you are awkward.
I think there is a snag in the announcement of who is nominated because I don't see any of the lettering for the show.
Best Rap Sung Collaboration– Jay Z & Justin Timberlake. Cute Sippy cup comment.
Like Imagine Dragons, but not impressed with Lamar.
Taylor Swift is dancing again. Lots of bleeping. Oh Taylor's mom is joining her in the dancing.
Camera is lagging they must be having issues tonight.
It's so bright I can't see them anymore. Cool show when its just Imagine Dragons.
Kacey Musgraves- its cheesy, campy and I like it. I enjoy it Immensely. The song has a great message, she has a great voice, and I can understand her. I  really enjoy that performance. There was nothing wrong with her performance.  Love her skirt, love her boots, love her whole outfit.

What's Julia Roberts doing here? She doesn't sing. Someone who was around when the Beatles were in their hayday should present them. My boyfriend, a Beatles enthusiast, agrees.
Nice to see some of the member perform together. Now this a performace. No flashy lights, no flashy costumes, no fog machines. Just a great performance. That is how you put on a show. It was nice.
Best Pop Vocal. I hope Robin Thicke doesn't win. Not happy, but at least it's not Robin Thicke.
Bruno Mars you are reminding me of Ducky from Pretty in Pink.
Hawkeye is at the Grammys? Okay
Thank God we have some singers that can perform. I don't care if 3 of them are really old. Heck they could give lessons to many performers today.
Best Country Album- I want Kacey Musgraves to win ! YES She Won! SO HAPPY!!
She is so cute.
They cut her off, that was rude, others had longer speaking times.
Daft Punk and Stevie Wonder-what is up with the duos tonight?
I love Cyndi Lauper
Sara Bareilles- good voice. I enjoy it.
Song of the Year- Given to Royals! I'm  so disappointed.
Jared Leto is so cute & hot!
Metallica I was underwhelmed.
Record of the year- Daft Punk , well I can deal with that.
Wedding at the Grammys- thats unexpected. And not trying to be a downer, but I hope those couples aren't divorced within a year.
Madonna's voice sounds kind of country here.
Will the Grammys ever end?!
Music Educator Award- that's awesome. I'm glad they do that. I hope they continue to do that.
I'm glad they recognize classical artists in those that have passed away.
Why is a comedian up there among those that have passed away?  I understand singers and producers, musicians, but comedian? Confused I thought the Grammys was all about music?
Just saw a tweet about that we are near the end of the Grammys! Thank God!

Taylor Swift got up as she heard the "R" sound. I feel kind of bad for her.
Album of the Year– Daft Punk.
I don't care at this point,I'm just glad the show is almost over.
This show started at 8:00, its almost midnight. OMG
Nine Inch Nails, Queen of the Stone Age, Dave Grohl, Foo Fighters, Lindsey Buckingham, what a weird mix.
One of the few good performances tonight and they have advertisements play over the performance.
This was horrible! This sucked so much!
This awards began at 8:00pm and ended at midnight. That was four hours of my life that I wasted and I will never get back.
My favorite part of the night.
Well besides the show ending, my favorite part was Kacy Musgraves. Never heard of her before tonight, not a huge country person. I love her sound, I love her personality and I love her presence. She has made a new fan.
Want my thoughts about the Grammy's Red Carpet Fashion? Click Here.
What was your favorite act? Were you upset by any of the results from the Grammy's? Let me know in the comments below!